SaLuSa, 16-September-2011
Vårt oppdrag har vært knyttet til dere gjennom lang, lang tid. Vi har fulgt med på deres utvikling til og med tilbake til de tidlige sivilisasjoner, av hvilke Atlantis og Lemuria de seneste av dem som dere vet om. Vi har alltid hatt en viss påvirkning på deres utvikling, men det er bare i den grad vi har hatt fått tillatelse til å gjøre det. Den frie viljen er en faktor som har vært en viktig del av deres erfaringer, og vi ville aldri blande oss inn i det dere har skapt nettopp av den grunn. Veiledning er tillatt, samt hjelp til Moder Jord, som har vært mer direkte i den senere tid. Det er Skaperens Bud at Oppstigningen skal avslutte deres tid i dualitetens syklus, og det er vår ære og ansvar å se til at dere kommer gjennom avslutningen.

Vi vil minne dere på, at til forskjell fra deres forrige syklus, så har vi i denne syklusen fått autoritet til å gripe inn med fast hånd. Ellers hadde de mørke kreftene allerede ødelagt Jorden og alt liv på den. Denne gangen er det avslutningen på deres erfaringer i dualiteten, og det er grunnen til at dere snart vil få møte deres forfedre fra Innerjorden. Når det gjelder deres bevissthetsnivå, så har dere utviklet dere tilstrekkelig til at dere kan ta opp kontakten med dem igjen og lære om deres felles historie. For alle vil ikke dette være helt nytt, for kontakt med dem har skjedd fra tid til annen, av folk som har opplevd å finne veien til Innerjorden. De som er mest kjent er Admiral Byrd og oberst Billie Faye Woodard. Deres opplevelser er vel dokumentert.

Kjære Sjeler; sannheten kan ofte være mer sensasjonell enn science fiction, selv om mange fiction forfattere har blitt inspirert til synliggjøre den for dere. I den Galaktiske Føderasjon er det mange sivilisasjoner som har et utseende som likner mye på mennesker, men også noen som er svært ulike. Det de har felles er sitt åndelige utviklingsnivå, som har gjort at de kan være med i vårt arbeid. Dere er nødt til å møte dem, for å kunne kjenne den strømmende kjærlighetsenergien de utstråler, for da vil enhver frykt umiddelbart forsvinne. For utseende alene kan være svært villedende.

Vi vil også minne dere på at deres sivilisasjon allerede har blitt lovt medlemskap i den Galaktiske Føderasjon, med det vil åpenbart bare kunne gjelde dem som stiger opp og som har oppnådd et tilstrekkelig høyt bevissthetsnivå. Ingen velger for dere, men vi kan svært tydelig skille mellom de som er klare og de som ikke er det, og den ofte siterte Loven om Tiltrekning virker også inn på det. Vi skynder oss å tilføye at alle sjeler til slutt når det høyere nivå, og at tidsfaktoren ikke spiller noen rolle, for dere har hele evigheten på dere til å nå dit. Nøkkelfaktoren henger sammen med hva dere velger å oppleve og erfare, og hvor lenge dere ønsker å fortsette med det. Husk også i denne sammenheng at dere en gang var Lysvesener med høy status. Dere var svært interesserte i å oppleve de lavere energiene, fordi dere visste at det ville utvide deres bevissthet og forståelse, for det gjøre det mulig for dere å hjelpe andre som følger i deres fotspor.

Livet er ikke noe annet enn et storslagent eventyr som aldri tar slutt, ettersom Skaperen hele tiden gjennom sine drømmer gjør nye skaperverk til virkelighet. Foran dere ligger store utfordringer og muligheter til å tjene andre. Selvopptatthet og egoisme vil snart bli erstattet av ønsket om å tjene alle sjeler og vil medføre at dere vil bli del av en gruppebevissthet. Det er slik den naturlige utvikling går, inntil dere til slutt blir Ett med Kilden Til Alt Som Er. Men sett fra deres tidsperspektiv er det fortsatt langt unna og fortsatt en lang vei å gå.

Jeg er SaLuSa fra Sirius og jeg vil si, uten på noen måte å være nedlatende, at den menneskelige sivilisasjonen har vært på barneskolenivå. Det har blitt slik på grunn av at dere mistet deres høyere bevissthet, hvilket skjedde da dere da dere slapp dere ned til de dimensjonene der dere nå er. Faktum er at dere har gjort fantastiske fremskitt i løpet av de siste knappe 30 årene, eller etter den Harmoniske Sammenkomst. Dere kan være sikre på at dere har jobbet hardt for å løfte dere selv opp, og dere har lykkes. Det har alltid vært hjelp tilgjengelig og mange sjeler har svart på bønnene og kommet til Jorden sammen med dere. Resultatet er at dere har blitt sanne Lysvesener og at vi elsker deres pågangsmot og besluttsomhet nå det gjelder å komme til Oppstigningen. Vær velsignet hver og en av dere.

Tusen takk, SaLuSa!
Mike Quinsey.

Ps! Neste melding fra Mike Quincey kommer 28 september 2011
rth. The result is that you have become true Beings of Light, and we love your determination to reach Ascension. Bless you each and every one.


Thank you SaLuSa.
Mike Quinsey.

Website:
Tree of the Golden Light
PLEASE NOTE NEXT MESSAGE FROM MIKE QUINSEY WILL BE ON SEPTEMBER 28TH. THANKS.
"CONNECTING THE LIGHT" FRIDAY 16TH, SEPTEMBER 2.00PM, PST.
~FROM GALACTIC LOVE REPORTER MIKE QUINSEY~
Hi Friends,

I will be discussing with Genii Townsend her book "The

City of Light - Sedona" covering some 34 visits she has made to the Embassy

of Peace, which is filled with hundreds of Space Entities, where she is able

to learn of the City and its coming fulfillment.

The prototype City of Light is holographic, and expected to

soon be lowered to the surface in Sedona, and it will be followed by another

2 elsewhere in the US. Eventually there will be a total of 14 Cities of

Light throughout the world. The purpose is to have all kinds of healing

technologies available, as all must be healed.

Frequent reference is made to 11.11.11 and referred to as a

Love Wave, and it has to come before the first City of Light appears. Genii

has been told that both equal love, representing the NEW WORLD coming into

being, like a planet reborn in the Universe exploding with Light, and it

will be so. Also that the 11.11.11 Love Wave is the closest prognosis as to

a time line, that has to happen first.

Commenting on Disclosure, her contacts at the Embassy of

Peace stated that there would be Disclosure, but no particular date as the

energy pattern fluctuates dramatically, and the entrance of the City of

Light frequencies interrupt the normal flow you are used to daily. It would

only take place on the 27th. December 2011 if all were in the projected time

line of Disclosure, and according to its effect on the City of Light. She

has also been told that the weather changes all over our planet is due to

the pre-City energy coming into our 3 dimensional atmosphere.

Genii is the City Embassy Emissary of Love, and expects at

some stage to talk of her work with President Obama who she is told holds

the Light, and also at the United Nations. Genii has spent 27 years involved

in this project, and only recently been given permission to announce her

mission of enlightenment.

I feel that this event is so important, that I am sending

out this advance information so that if you wish, you can buy the book prior

to the program. I feel that will make it more enjoyable and understandable.

Genii's website is:
and her E.Mail address
thegeniiconnection@msn.com
This will be one of the most exciting programs I have taken

part in.

In Love and

Light. Mike Quinsey.

Originals and translations of Galactic Messages available on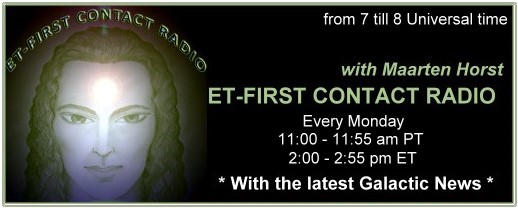 Every Monday night from 8 to 8:55 pm
channelings and related matters are being discussed on First Contact Radio.
The show is hosted by Dutch Lightworker Maarten Horst and is presented in English.